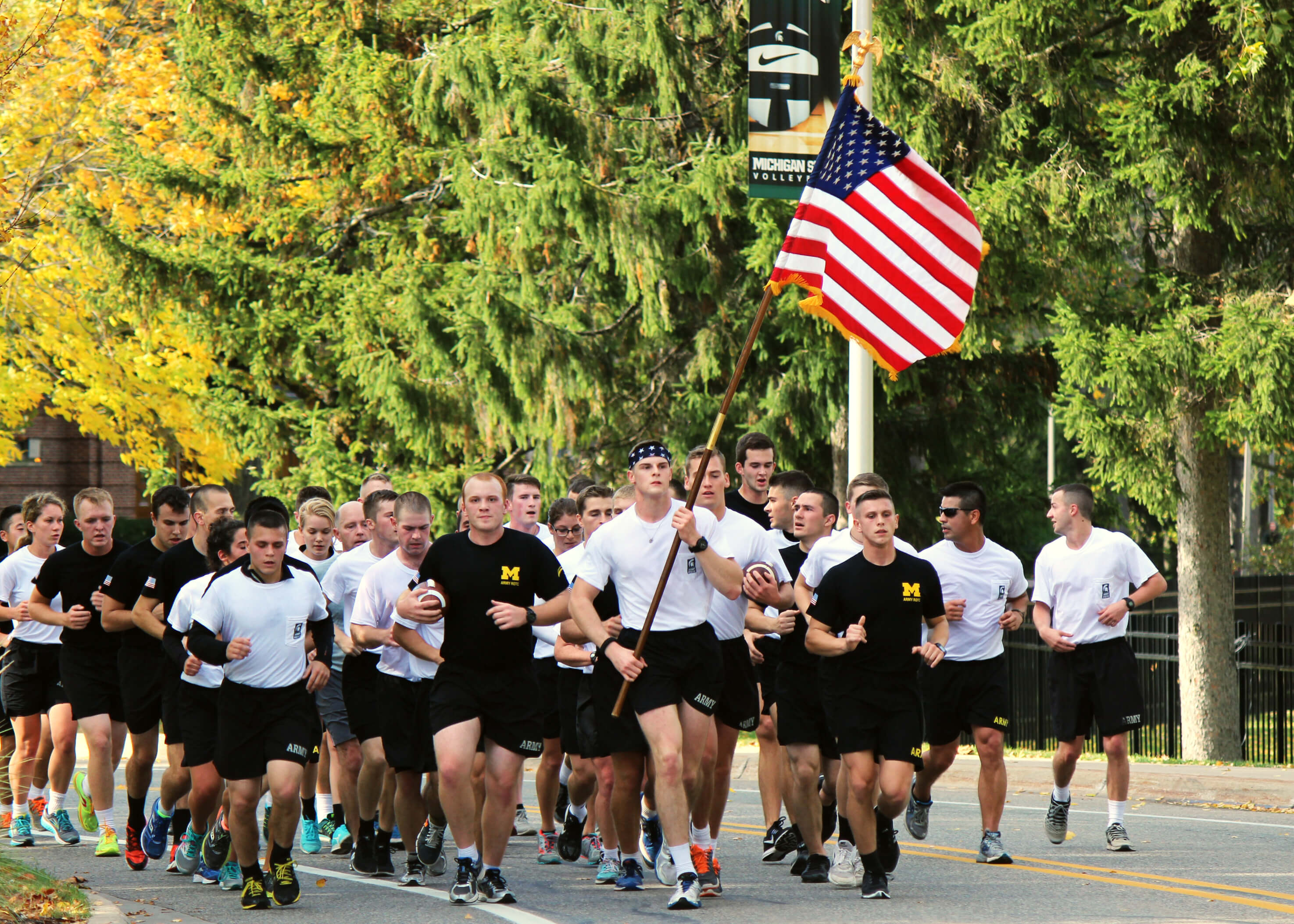 As the world annually focuses on one of the most honored football rivalries in America, a new tradition continues. A team of ROTC cadets from both Michigan and Michigan State will come together at the "Sparty" Statue in East Lansing. There, on the Friday morning before game day, they will be presented with the game ball. Together they will run that ball across 64 miles of Michigan back roads to University of Michigan's Diag.
This new tradition defines the MSU / U-M rivalry in a new light; the next generation of minute men from both institutions, working together to bring awareness to a worthy cause that benefits both universities and addresses the fundamental reason they exist, "to make quality education accessible to all."
Police agencies from every community along the route will ensure safe passage. A robust support system, including the services of Dean Trailways will roll behind the runners. Every eight miles, another pair will take over, one carrying the game ball, the other an American Flag.
These two Big Ten powerhouses are rightly celebrated for their storied athletic traditions and the men and women who continually write new chapters in their history. Alex's Great State Race reminds us of another powerful dimension; that all who have the capacity to learn have access to the finest education possible.
Donations in celebration of this symbolic partnership between two elite educational institutions will help support the work of the Resource Center for Persons with Disabilities at MSU and the Office of Services for Students with Disabilities at U-M.
Track the Ball
RaceJoy provides an interactive experience for live tracking. The RaceJoy experience includes Cheer Sending by remote spectators, progress alerts at every mile, and automated virtual results submission. RaceJoy will allow for instant progress of the game ball and ROTC cadets as they make the trek from Michigan State University to University of Michigan.
Download the RaceJoy App, Look for the race ALEX'S GREAT STATE RACE, and track participants ROBERT SULLIVAN from MSU or ELIJAH DURIAN from U of M. 
Luncheon to immediately follow the landing ceremony at the U-M CHEM Building. 
Race Route
Runners will depart Demonstration Hall on MSU's campus at 2:00 AM, Spartan and Wolverine fans are encouraged to gather at 1:30 AM to cheer on the runners as they start their race. Fans can later gather at 11:30 AM at Angell Hall on U-M's campus in Ann Arbor to welcome runners as they land at approximately Noon. This year, the ROTC cadets will be joined by a group of athletes with disabilities and Michigan Supreme Court Justice Richard Bernstein, who will run the last five miles of the race.
Starting Site: MSU Demonstration Hall, 229 Dem Hall Rd, East Lansing, MI 48824
Landing Site: U-M Angell Hall, 435 S. State Street, Ann Arbor, MI 48109
About Alex
Alex Powell's short life is a testament to the courage, tenacity and spirit that epitomize the best in both Wolverines and Spartans. Learn more about the extraordinary young man for whom this race is named.